Welcome to "Extreme Outlaw Anime"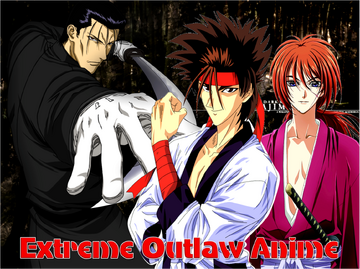 Extreme Outlaw Anime is a Anime E-Federation. Sign up for Wikia or if you allready own a Wikia account you can still join this E-Fed. There are match cards which are the grand tales, and there are battles within them and you must vote, in doing so the peeople with most votes shall win, you can also go onto chat to speak with some of your friends. Created in January 2013 by Raj Singh.
Raj Singh 'the Samurai King' *founder*
 Raj Singh 'the Samurai King' s Announcement  
Welcom to the Extreme Outlaw Anime. Extreme Outlaw Anime is where you are a Anime Worrior, you are either good or bad, got it! You will crussade through many adventures and form grand tales. There are also stand out legends where the Worriors of good and bad go on their own quest, fromthe hightest peek of the promise land down to the deepest darkest crack in hell. Those who are a acomponied in this Extreme Outlaw fellowship and conquest shourld be greatful for being worthy enough for a conquest as great and legendary as this. We will accept any form of Warrior, Ninja, Samourai, Brawler, Navy, Millatry, Traditionalist and Martialartists, but that is only is you meet to either my exceptations or TheBIgSGA's we let you accompany us. Remember that this is no game, if you die or brutally become injured it is your own fault however we will assist you but if too serious and we know your fate is death, we must abandon you for our own sake, no good for your sake if you are near death. If you agrue with eachother action must take place and as I see a good way is to have a duel, fair and square. It is your own choice of you would like to tag along, and never mind what I said, this actully is a game, this is the very own game of your life, this is the game of life or death so whatever the cost be ready for anything.
regards of Raj Singh 'the Samurai King'
Raj Singh 'the Samurai King'   vs  TheBigSGA  
The Grand Battle at the End of the World
Raj Singh 'the Samurai King' vs TheBigSGA
Biggest Legend in the whole of E.O.A League
The world's two best swordsman collide, from both good and evil sides
The darkest evilest most cold swsordsman vs the great grand bright and fair swordsman
Both swordsmen from the good and evil nations collide, but can they make peace
or will their hate and rivally go on for ever and ever ...